A review by Julie Anna Schultz
The Long Tail; Why the Future of Business is Selling Less for More by Chris Anderson
This book has been sitting on my shelf for some time now. Well, like perhaps two years! Raved about on one of my discussion lists I decided to give it another looksie before selling it.
When I read the book prior I quickly lost interest as the statistical graphs began to appear on page after page. The last few months, however, I have been all about graphs especially when it comes to understanding economics and the nature of the marketplace. This book goes into depth explaining the buying habits of people online and the marketing behind all of that. I recently learned the new edition of The Long Tail is available titled The Longer Tail. I am quite interested in reading a copy of that since the book I am reading is six years old; that's an eternity on the internet. I suspect the news gets even better for internet retailers.
As I got further in the book (beyond the previous owner's highlighting) it became very encouraging to see how shifts have changed in our nation's (and the world's) buying habits as a whole. No longer are we driven by mass media and hugely sponsored companies dictating to us what our tastes are, how we should feel about a product, and most importantly how we should thin as consumers.
You may be wondering what this has to do with you. Everything as an internet marketer. Whether you sell cars on eBay, rings on Etsy, books on Amazon or baby clothes on your won website you should understand the power in what the people say and the availability of choice never previously offered in our world  . Our market is not only global but our product choices are nearly limitless.
This is where The Long Tail comes in. For you quants you know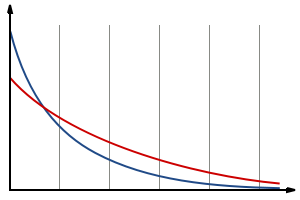 the front end of the graph is considered to be the head where the majority of buys are — the farther to the right is the tail where the graph drops off. Before the market was in the billions of buyers, that line hitting nearly 100,000 was a huge waste of time for the business owner who spends tons of money on overhead. But for us it can be a perfect number especially if we identify
{ 0 comments }