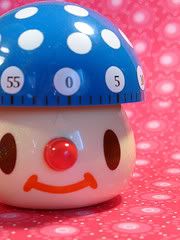 I asked informally at a few of my favorite online forums where work at home moms hang out if they naturally included or excluded their children in their home businesses. It seems most mothers exclude their children but I think there is a good reason that my question was answered that way. It's because most of the moms still have very small children to care for while they etch out a few uninterrupted minutes tending to their businesses.
There are traditional ideas like swapping child care or using the one eyed babysitter aka as the VCR to take care of your charges, but not everyone is comfortable with those alternatives or even have the resources available to them.
Those of you who are at the very young child stage may want to take advantage of a concept my online mentor Lynn Terry from Clicknewz.com mentioned which is using the task/reward philosophy called the if/then statements.
It goes something like this: If you let mom write uninterrupted for 45 minutes then I will take you to the beach for an hour. The key to this now is to follow through good or bad. Of course, following through on the reward is the easy part especially since we need to take frequent breaks as home business owners and many of us have a tendency not to do so. However, the most important part of follow through on this is if the little ones don't keep their end of the bargain no matter how much they beg and excuse their behavior you must NOT take them to the beach. Try next time and see if they can actually wait the allotted time. A most effective way of doing this is by setting a visual timer that the little ones can understand while watching. An egg timer which winds down and dings is ideal. The children have an end in sight. It's not an arbitrary concept but an actual visual.
The other folks who did include their children had older children for the most part but there are a few examples of  gals who let their preschoolers help stuff fliers in and tape packages. I know there are myriad ways to let the little ones "help". The moms of the older set have an advantage especially if you homeschool. Thinking through your educational philosophy will help you see how very important it is to actually involve your pre-teens and teens in your business and count it as school. As a result I have a teen who earns a whole lot of money building websites for people. I have a married daughter who owns her own soap making business and knows she can always sell books online should she and her husband need the income. I blogged about how the perfect idea of earning money at home can turn into a nightmare neglecting your children sooner than you think.
Photo credit I'll Show You Mine
Technorati Profile